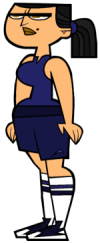 Eva to uczestniczka Totalnej Porażki.
Na Wyspie Totalnej Porażki (odcinki 1-3, 15 i 27) rywalizowała w drużynie Zabójczych Okoni. Potem już nie wróciła do rywalizacji. W 6 podsumowaniu TPwT, wykonywała prace dziennikarki, wypytując rożnych ludzi o ,,zbiegów Totalnej Porażki". Nie przykładała się do tego za bardzo.

Jest to bardzo silna i niestety bardzo nerwowa dziewczyna. Więc gdy się zdenerwuje niszczy wszystko dookoła. Nie znosi pozerów, naciągaczy i kłamców. W rodzinnym mieście dzieciaki znęcały się nad nią, dlatego zaczęła uprawiać kick-boxing.